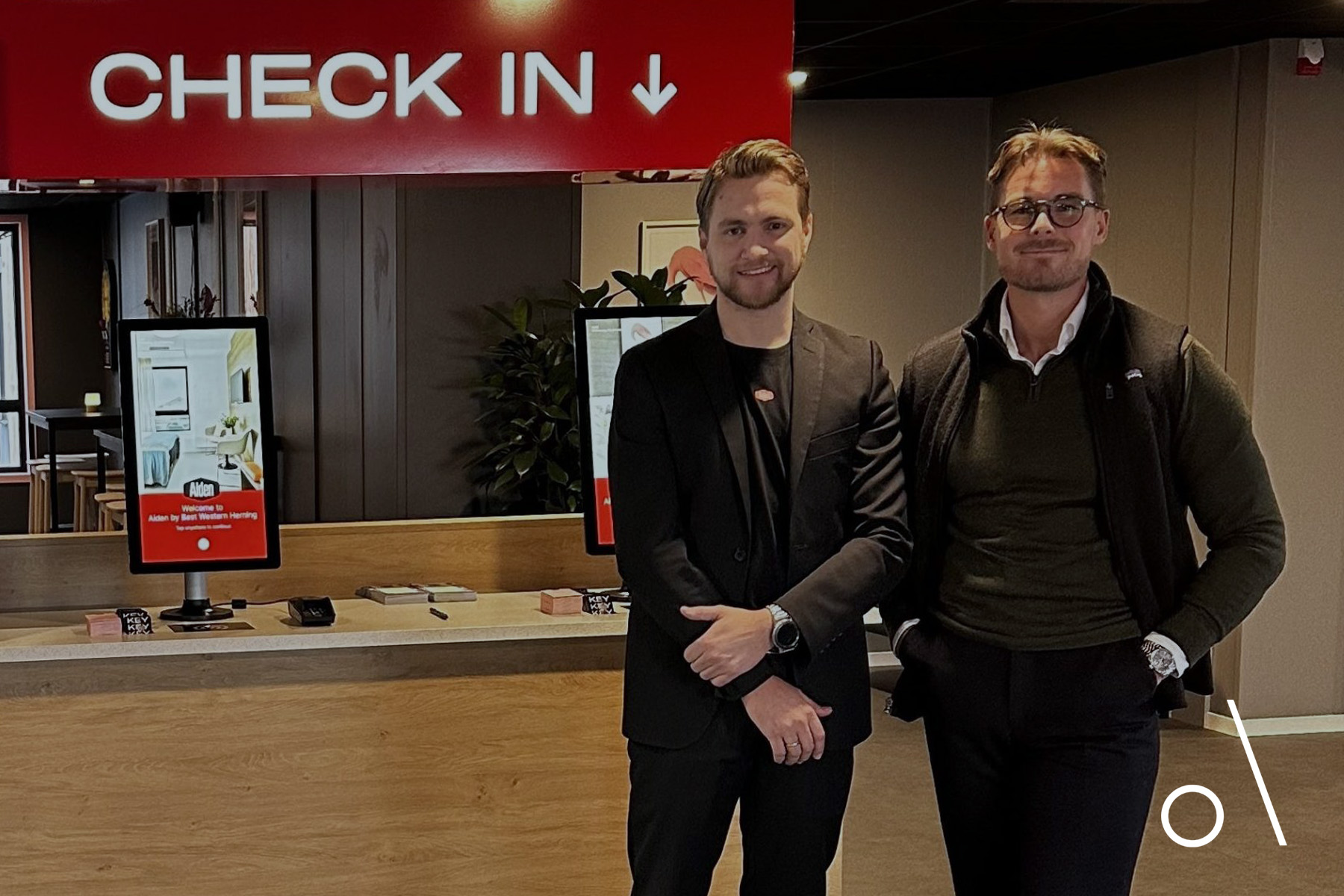 With a plan to launch a substantial number of new hotels by 2025, CIC Hospitality had to form an innovative concept with streamlined processes for all their upcoming hotels, ensuring an efficient and profitable rollout. Arribatec Hospitality was chosen as the trusted partner for the check-in solution.
How CIC Hospitality plan for their quick rollout of new hotels
CIC Hospitality, a leading hotel management group, has found great success in partnering with Arribatec Hospitality for all their new Aiden® hotels.
With a plan to launch a substantial amount of new hotels by 2025, it's been critical to develop an innovative hotel concept with streamlined processes for all their upcoming hotels, ensuring an efficient and profitable rollout. Arribatec Hospitality was a natural choice of partner for all their new hotels.
"Partnering with Arribatec for all our hotels means saving more than NOK 1 million in employee costs, higher income per guest, more efficient operations and increasing customer satisfaction. We strongly believe that anyone planning to run a hotel in 2023 must offer technological solutions that are in line with the expectations of the modern guests, and Arribatec has been a natural choice to be able to deliver on this."
— Thomas Furulund, CIC Hospitality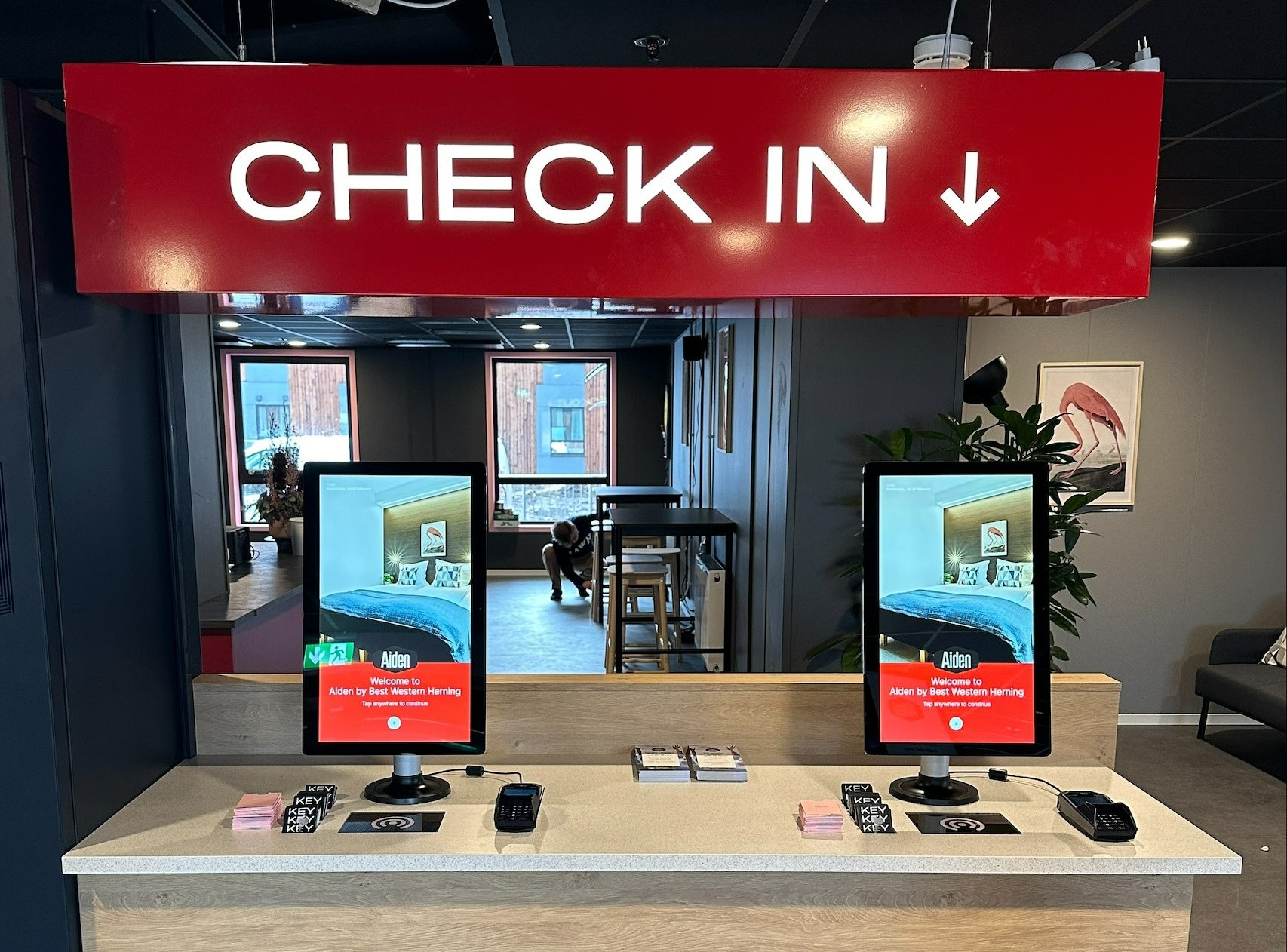 Simple plug-and-play setup
With the easy plug-and-play setup of Arribatec Hospitality's check-in kiosks, CIC has quickly created and realised a concept truly in line with the new consumer habits in the hospitality industry, ensuring maximum guest satisfaction in all their properties.
The self-service kiosks from Arribatec free up time for their staff to provide the best possible customer service and enable more upsells.
"In addition to reduced queuing for our guests, we create more contact surfaces for the guests to get in touch with us by freeing up time for our staff to serve and host."
— Thomas Furulund, CIC Hospitality
A new hotel concept without the traditional reception
CIC Hospitality is known for challenging the hotel industry with an innovative/technological hotel concept, and they are now redefining hotels from traditional receptions to modern and relevant lounges with social areas where the staff can be hosts instead of receptionists.
Their new concept, Aiden® by Best Western, is a trendy collection of laid-back boutique hotels with a local flair and imaginative design. The concept is developed by CIC in collaboration with Best Western and will be rolled out across Scandinavia over the next few years, offering a fully digital hotel experience with self-service counters and virtual assistants from Holoconnect.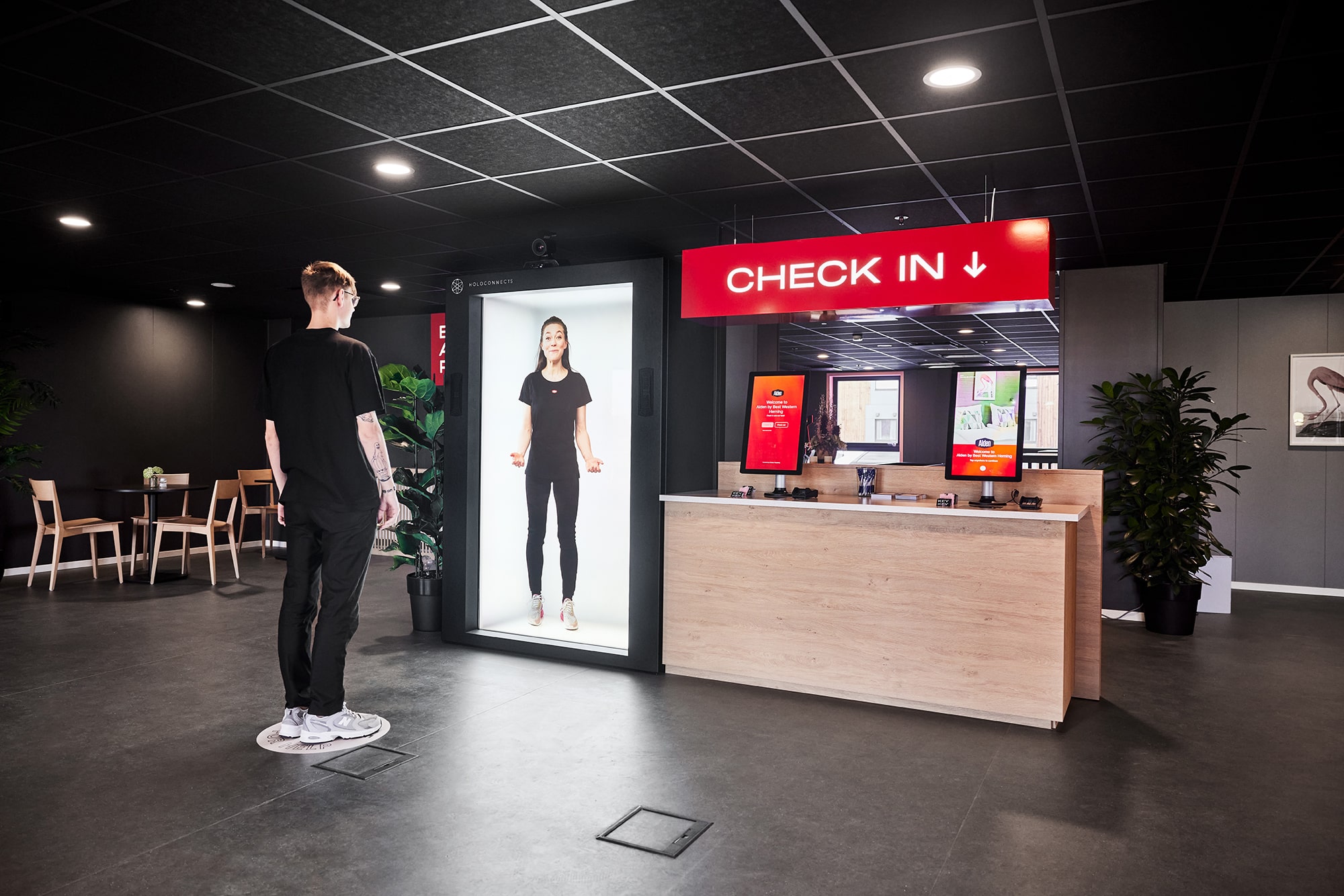 Photo showcasing the virtual assistant and self-service kiosks.

Photo: Holoconnects
Staying relevant and modern is essential for CIC's success with its new concept. One of the central solutions they have implemented is self-service kiosks, ensuring a quick and user-friendly check-in experience. CIC has recognised the great value of Arribatec's check-in solutions and has made them a standard feature in every new hotel they launch.
"Together with Arribatec, we have grown in parallel and have entered into a good partnership and look forward to the coming years."
— Thomas Furulund, CIC Hospitality
The key success factor for the quick rollout of high-quality hotels
For CIC Hospitality to roll out new high-quality hotels at high speed, Arribatec Hospitality has been a natural partner due to the industry's best uptime, quick customer support and simple installation.
They are a trusted partner for hotels looking to gain an edge in the competitive hospitality industry.
"A part of our success might be that we offer world-class support where we respond to all inquiries mostly within 10 minutes and have resolved most cases within the first hour. CIC has repeatedly stated that we have a unique support team that no one else can match."
— Alexander Richter, EVP Hospitality
The natural partner for hotel technology
Arribatec Hospitality is a leading provider of digital solutions for the hospitality industry. The company has established itself as a natural partner for future-minded hotels, offering a suite of products and services that enhance the guest experience and streamline hotel operations.
They are able to leverage their expertise in technology and hospitality to create solutions that are both innovative and practical, making them an ideal partner for hotels looking to stay ahead of the curve.
Specialised in self-service kiosks for hotels
One of the key areas where Arribatec Hospitality excels is implementing self-service kiosks. Their kiosks allow guests to check in and out and access other hotel services quickly and efficiently. By eliminating the need for guests to interact with hotel staff for routine tasks, hotels can reduce wait times and improve the overall guest experience.
The self-service kiosks are designed to be intuitive and user-friendly, making them accessible to all guests, regardless of their level of technological proficiency.