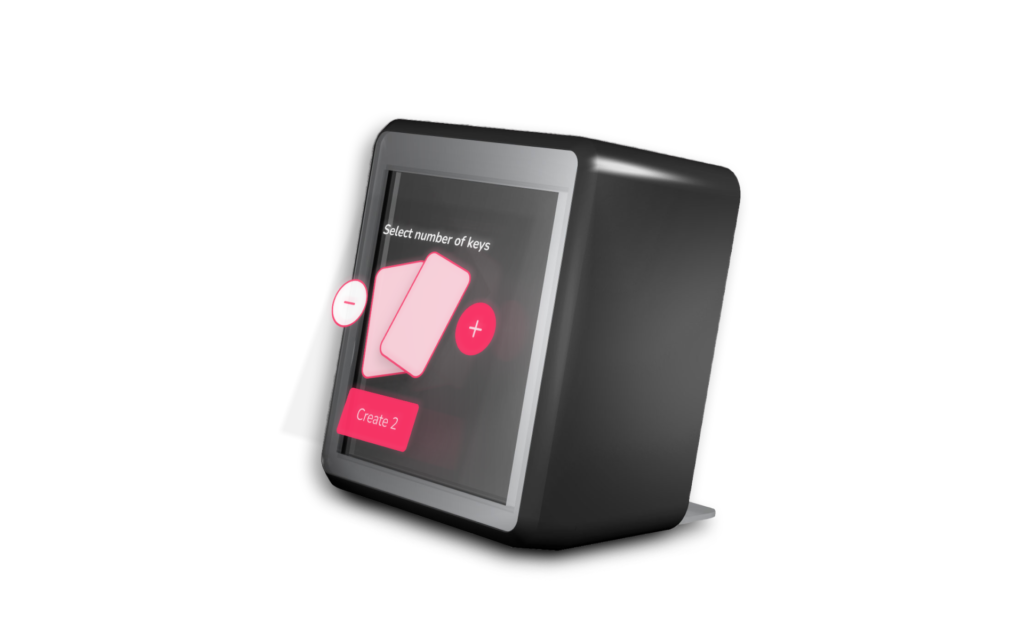 Holographic screens and a truly touchless experience can play an essential role in preventing the spread of infection and enabling hotels to welcome guests again.
The world's first holographic check-in experience for hotel guests
Become the first hotel in the world to offer your guests a touchless check-in experience through the use of holographic screens.
– The use of holographic screens is a key focus area for us due to the growing importance of preventing the spread of infection in society, says Alexander W. Richter, Managing Director of Arribatec Hospitality.
Revolutionising check-in and check-out
A holographic screen creates the illusion of a screen floating in the air. The screen has sensors that register where you press and therefore make it possible to navigate as you would do on a regular touchscreen.
See how the genius holographic screen works in the video below:
– This new technology revolutionises how we can check in and out of hotels, enabling a 100% touchless experience, Richter explains.
The holographic screens are delivered by the experienced hospitality supplier Holo Industries.
Preventing the spread of infection at hotels
Holographic screens and a truly touchless experience can play an essential role in preventing the spread of infection and enabling hotels to welcome guests again.
– Whether we are in the middle of a pandemic or not, we believe that humans will pay increased attention to the care given to prevent the spread of infection in the future. Guests will be more sceptical towards touching objects in public spaces and more concerned with personal safety.
At Arribatec Hospitality, we consider it our social responsibility to offer the newest and most advanced solutions on the market to meet society's changing demands, says Richter.
A little piece of the future
Does your hotel want to be the first to offer touchless check in and check out solutions to its customers? Arribatec Hospitality welcomes customers looking to be at the forefront of modern technology.
– We are ready to deliver a holographic check-in. As soon as we get in touch with hotels eager to put the product out there to their guests, we will be there, Richter assures.
Exclusive agreement of holographic solutions for hotels
Arribatec Hospitality announced it has signed with Holo Industries, the manufacturer of holographic touch solutions for hotels, in December 2020. The holographic kiosk will be used at hotel lobbies for check-in and check-out. The kiosk can also be used for other applications at the same hotels, including elevators, restaurants, etc.
The agreement makes Arribatec Hospitality a value-added hospitality partner with Holo Industries' holographic contactless solutions for hotels, hospitality business and other applications in key markets.
An important agreement
The distribution contract is highly important for both Arribatec Hospitality and Holo Industries. It provides Arribatec with the opportunity to exclusively sell Holo Industries' products in Norway, Sweden, Denmark, Poland, Spain, Finland, Singapore and Dubai. A non-exclusive agreement for key US industries is also included.  
"The cooperation with Holo Industries is a proactive step toward our mandate to continue to offer new and improved methods of interacting with the facilities check-in, check-out, room access and complete hotel ordering services– without needing to contact the hotel reception," according to Andreas Loeseth, Product Director at Arribatec Hospitality.
"Their access to the hotel and hospitality industry in these key markets makes them an ideal partner for our contactless holographic solutions. We are delighted that Arribatc Hospitality is taking a leadership role in offering its employees and customers a safe, interactive experience. We see a lot of growth potential in this sector: from automated check-in services to digital restaurant menus and touch-free elevator controls, and look forward to a mutually beneficial relationship", Glenn ImObersteg, CEO of Holo Industries, says.