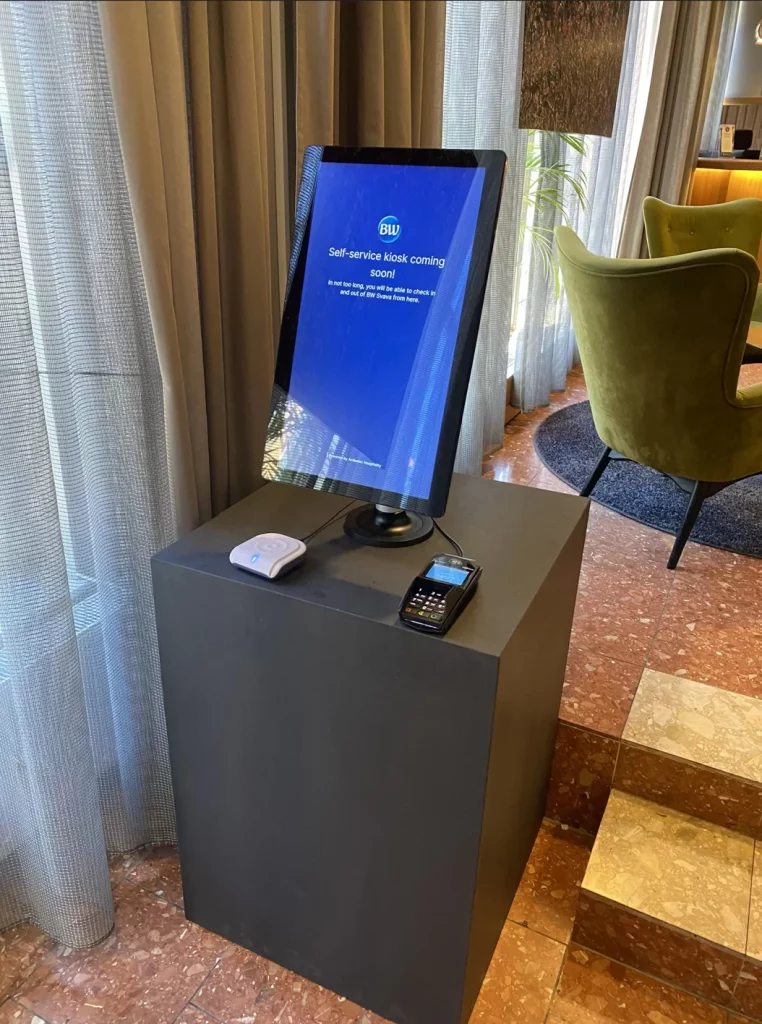 New solutions &
different thinking
Best Western Hotel Svava is a midscale city hotel in Uppsala, Sweden. With various guests, the hotel must be on its toes to keep up with new technology and customers' needs.
— The pandemic made me realise that we had to change how we operate. That was when I met Arribatec Hospitality for the first time, says Birgitta Azizsson, General Manager Hotel Svava.
Arribatec Hospitality has delivered a self-service kiosk for check-in and check-out.
— This installation is unique because we have integrated the Best Western Rewards program into the kiosk. This allows all the guests to become Best Western Rewards members or collect their points using the kiosk, says Alexander Weiss Richter, Managing Director of Arribatec Hospitality.
"The future will be more digitalised, and our industry needs to be a part of it."
– Birgitta Azizsson, General Manager Hotel Svava.
The pandemic has changed the way hotel guests and customers behave. They have become more independent and self-sufficient. This is a positive change for Arribatec Hospitality and hotels that are keeping up with the new development in the industry.
— We see that many of our guests are used to checking themselves in, online or on-site, at a self-service kiosk.
With this new kiosk, Birgitta says they will be able to meet our guest's needs immediately.
— Arribatec Hospitality has done a great job implementing our rewards system into the kiosk. This allows us to recruit even more members in an easy, simple and efficient way, Birgitta adds.
Hotel Svava has reduced their check-in time by 50% after installing the kiosk. This allows the receptionist to be more available and provide the best possible service for the guests that want personal contact.
Coming up for
Arribatec Hospitality
— We have many new projects coming up; one big and exciting project is the ticket vending machine for Flytoget. This may open a whole new market for us, Alexander says excitedly.
Arribatec Hospitality is also working with more prominent international clients to make our footprint even more significant.
– I can't say much more than that, so you'll have to read about it soon, Alexander adds with a smirk.